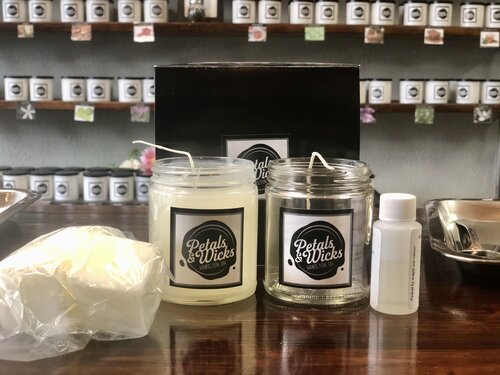 Bored at home? For most of us, quarantine has slowed our lives dramatically, and our level of stimulation tends to be dictated by how interesting Netflix content is at any given moment. Want to break free from the lethargy created by endless social media scrolling and streaming service binges? We've got you! 
Petals & Wicks wants you to know that a renewed sense of creativity is at your fingertips literally right now regardless of on what screen you're reading this on. Start by visiting our website where you'll find we're still offering all of your favorite products, from handmade candles to custom fragrances, essential oil body care, shower gels, and so much more. In addition, we are offering the chance to experience our custom DIY bath and body or candle bar in the cozy comfort of your own home!
FIND INSPIRATION AT HOME
Inspiration can be found both when creating your custom candles or bath and body products in our online store and by crafting your unique blends at home. A lot can be said for both methods, so pick your bliss-inducing "poison" or splurge and opt for both! If you go the at-home route and have kids there, our DIY bath and body kits come in many options and are the perfect activity to have on hand for days when a specific task will provide three key elements: structure and a burst of energy-channeling creativity for kids, a moment of peace for yourself, and a bonding experience for both or all of you.
One of our most popular at-home creative custom bath and body kits for kids is the Kids Goat's Milk Lotion and Bubbly Fizzy Bath Combo for which your young creator can choose Mermaids, Easter Eggs, or no theme. We also offer a Kids Monster Hand Soap Pump and a Kids Monster Spray At-Home Kit, both of which come with fun mystery stickers with which to decorate the bottles, including mermaids, monsters, dinosaurs, flowers and more! But, the kids can't have all the fun. Our crafty DIY kits are perfect for the young-at-heart in all stages of life!
Petals & Wicks' custom candles or DIY candle kits are made from natural soy wax and come in three varieties: the DIY Candle Making Kit, which comes with 9 oz Flint candle jars; the DIY Classic Candle Making Kit, which comes with 11 oz classic white tumblers; the DIY Wax Melt Kit. For each of these, you'll choose either two or four candles and a custom fragrance blend. You'll also receive labels for further personalization! 
CHOOSE OUR DIY CRAFT KITS TODAY
Whether you're a retiree who knows the ropes of occupying their own time or a reluctant participant in the stay-at-home order, we're all the architects of our lives. Some things we can't directly control, but what we do with the time we've been given isn't one of them. One of the best parts of our customer DIY candles and other at-home craft kits is that you can put these together on your own on your own time and customize with other goodies you have around your home, such as glitter and markers.
Now, while it's true that you can't physically come into our store to fulfill your meaning-creating mission, this is the perfect excuse to get out of the house for a quick drive. Swing by after you place your order for our DIY candle making kits; we're gladly offering no-contact curbside pick-up and would love to see you from a safe distance! Can't leave the house but live within 15 miles of downtown Hamilton? We'll drive your order of DIY kits directly to you and leave it at your preferred drop-off location at no additional charge. Live outside of our local delivery area but placing an order of over $50? Your shipping is free. Simple as that. 
Petals & Wicks understands how hard these times are. However, we would love to be a part of your experience as you navigate the road of finding meaning during quarantine. Order your DIY candle making kit today, and give us a shout out on social media after you've created a Petals & Wicks' candle or bath and body product. Show us pictures of your family or yourself making your own quarantine silver lining. Happy crafting!